Boilers
The design of boilers evolved slowly, mirroring the development of the steam engines that they supplied, progressing from the early "Haystack" and "Waggon" types (which were hardly more than large kettles) through the single-flue "Cornish" design to the "Lancashire" twin-flue layout.
Tens of thousands of Lancashire boilers were built by a wide range of companies and proved to be reliable and long-lasting, many being insured for their original working pressures 70 years later. Groups of up to 10 or more boilers were installed on some sites to meet the anticipated demand for steam both for engines and process purposes.
The Lancashire design was patented by Fairbairn and Hetherington of Manchester in 1844, the general form of construction then being of rolled wrought-iron plates riveted together. When steel became more readily available in the 1880's, most manufacturer's quickly turned to the new material to provide the higher steam pressures that their customers were demanding, whilst still retaining the same basic design.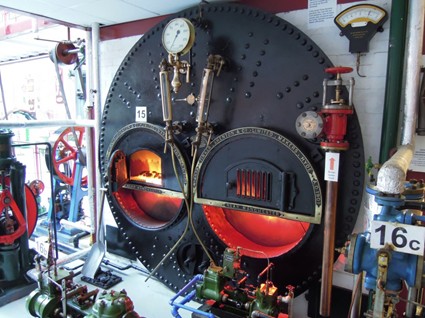 A full Lancashire boiler is over 30ft long and so the exhibit in the museum is just the front-plate, which gives some indication of how it might have looked in a boiler-house. This particular boiler was obtained from Halliwell Mills, Bolton and was manufactured by Hick Hargreaves Ltd of Bolton in 1906 for a working pressure of 160 psi.
Feed Pumps
In order to pump water into a boiler working under steam, a "boiler-feed" pump is required to deliver at high pressure. One was usually to be found somewhere in the boiler house, using steam from the boiler itself. These pumps took an enormous variety of different forms.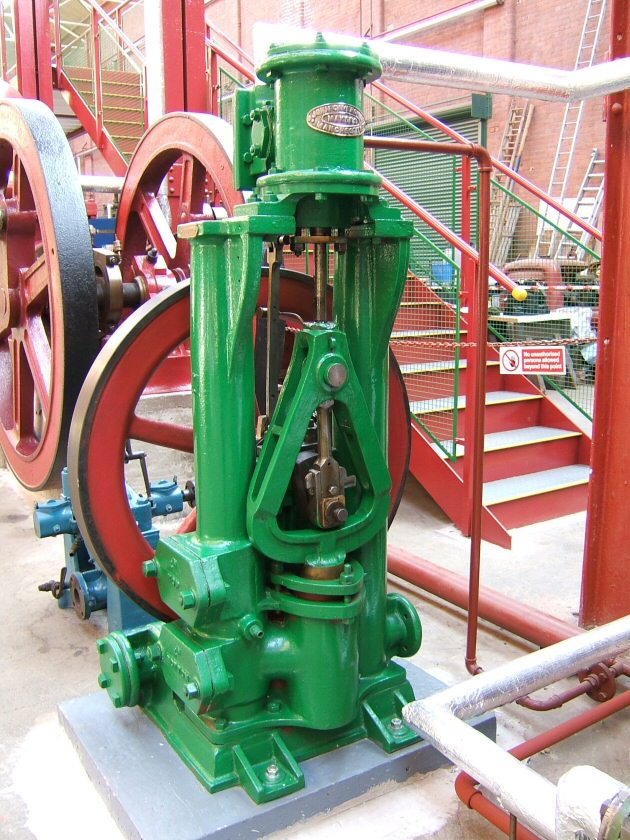 Shown in the picture above is a single-cylinder vertical "banjo" boiler feed pump built by John Cameron of Manchester with a bore of 5" and stroke of 6" . The cylinder and the pump (at the base) are directly linked via the banjo casting. To improve the smoothness of the pump delivery, a heavy flywheel is linked to the banjo via a short connecting rod and the crank rotates within the empty space in the centre.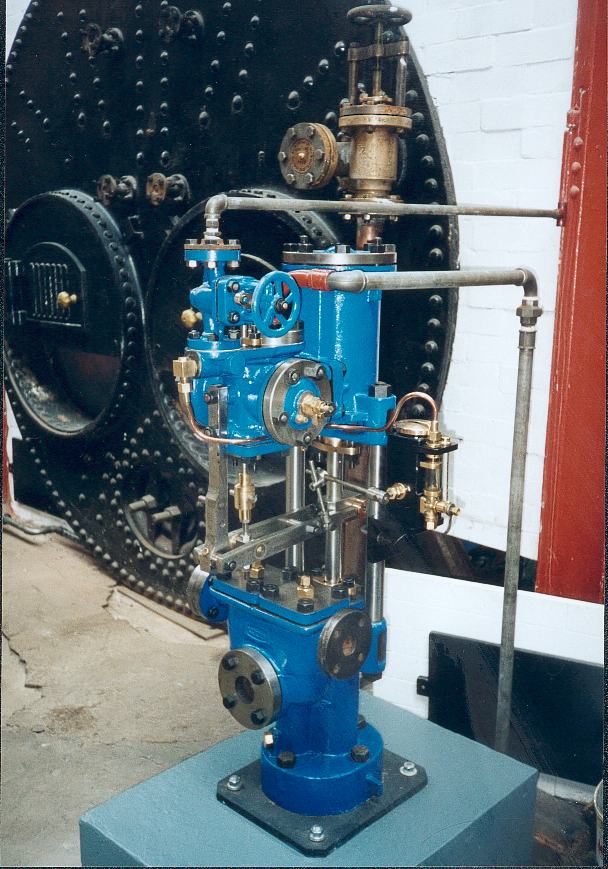 Recently restored, this is an example of a vertical direct-acting pump made by G & J Weir of Glasgow. This was probably the most common type of feed pump in the UK and thousands were made in almost every conceivable size, ranging from small units with a cylinder bore of only a few inches to giants which stood 8ft high. Some are still working, pumping water, oil, tar - almost anything.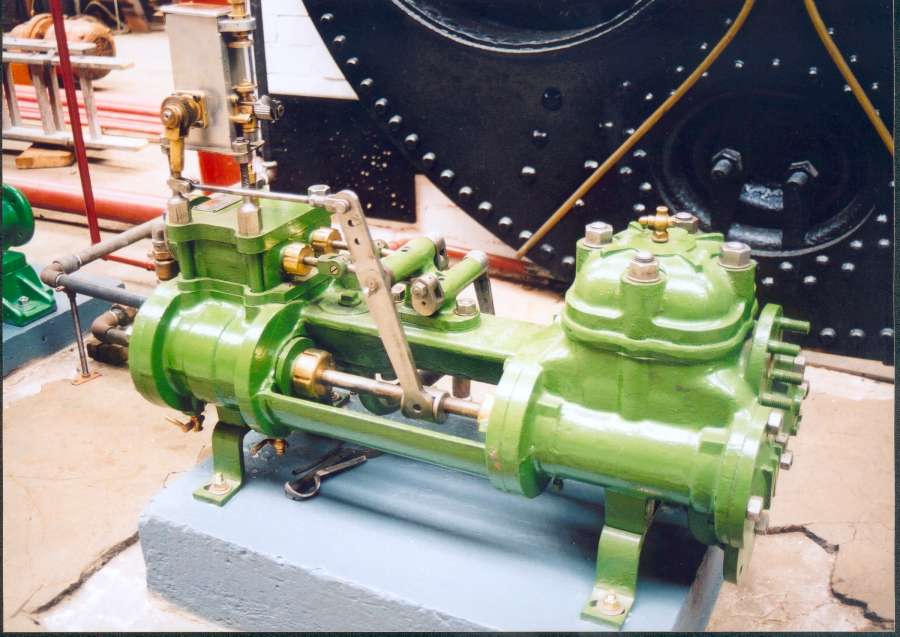 Another very common design, shown here is a small unit manufactured by Worthington-Simpson Ltd. This has twin steam cylinders (on the left) directly coupled to twin pumping cylinders (on the right). The movement of the pump-rods also operates the lever connected to the steam valve-chest (top-left), thus making the whole unit self-acting.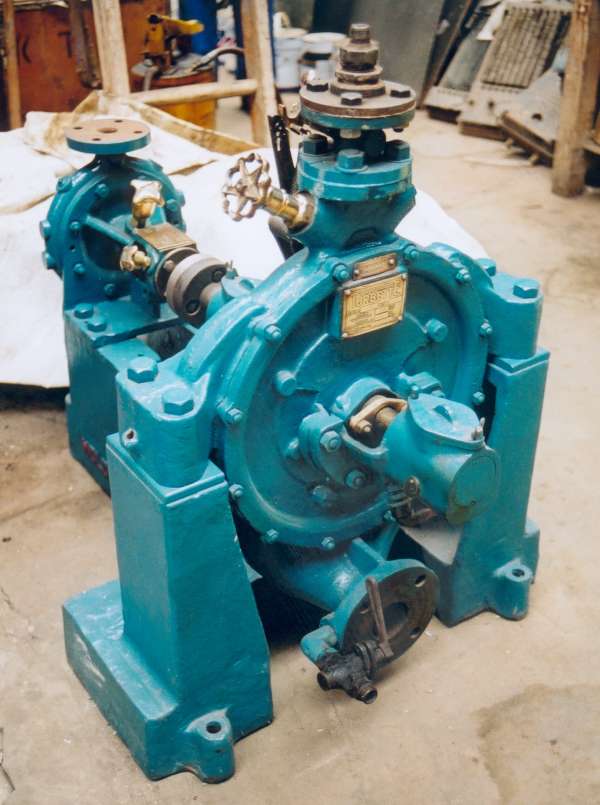 Most modern pumps are rotary - obviously more suitable for driving by an electric motor. However, this unit was powered by a small steam turbine manufactured by Holden & Brook Ltd, probably built in the 1950's. For all its size, the turbine is rated at just 1.7 horse-power and runs at 1,250 rpm on steam at 50 psi.