National Oil Engine
As the steam age was drawing to a close in the 1920s there was some interest in installing internal combustion engines in smaller mills and factories to replace steam engines. Using liquid or gaseous fuels, they eliminated the problems of delivering, storing and firing coal into a boiler to provide steam. They also offered better fuel efficiency than steam engines could provide. However, they were usually only made in single-cylinder form and required a very heavy flywheel to provide a sufficiently steady output speed to drive textile machinery. They were not widely used and most were replaced by electric motors when electricity became more available.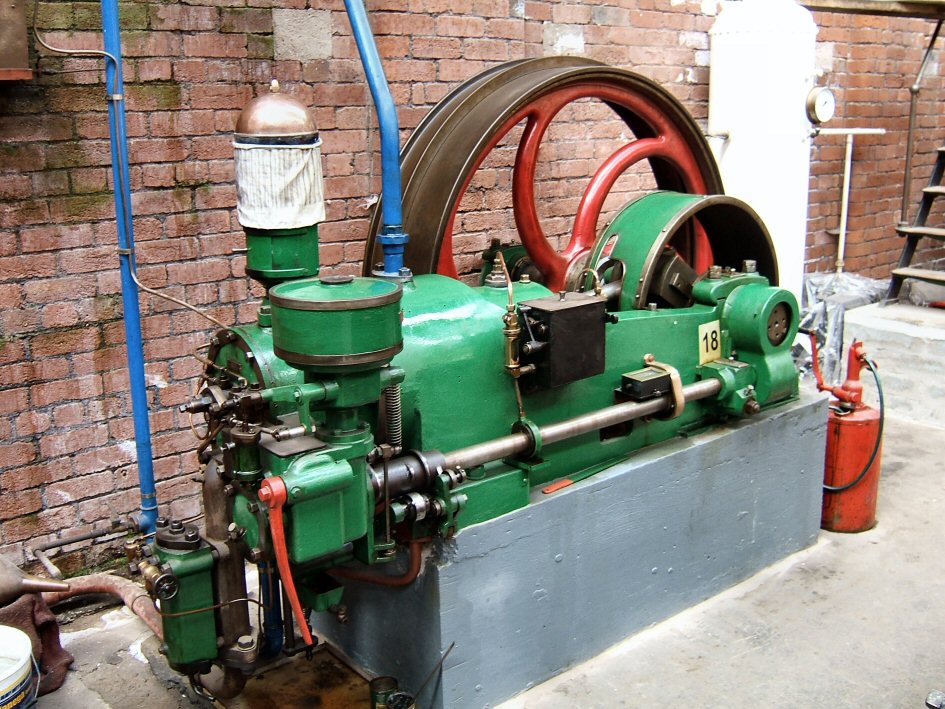 This oil engine is thus representative of its type, although this particular example was used in the experimental laboratories of Salford University. It was built by the National Gas and Oil Engine Co of Ashton-under-Lyne in 1926, Model type "CP", and has a cylinder of 8" bore and 16" stroke. Starting is by compressed air supplied from the large receiver seen in the background.
National Gas Engine
This very small example of a gas engine was used for educational purposes in the engineering laboratories of Harris College, Preston (now the University of Central Lancashire). It is a single cylinder L type engine of 6" bore and 10" stroke manufactured by the National Oil and Gas Engine Company of Ashton-under-Lyne in 1932 and is designed to run at 300 rpm .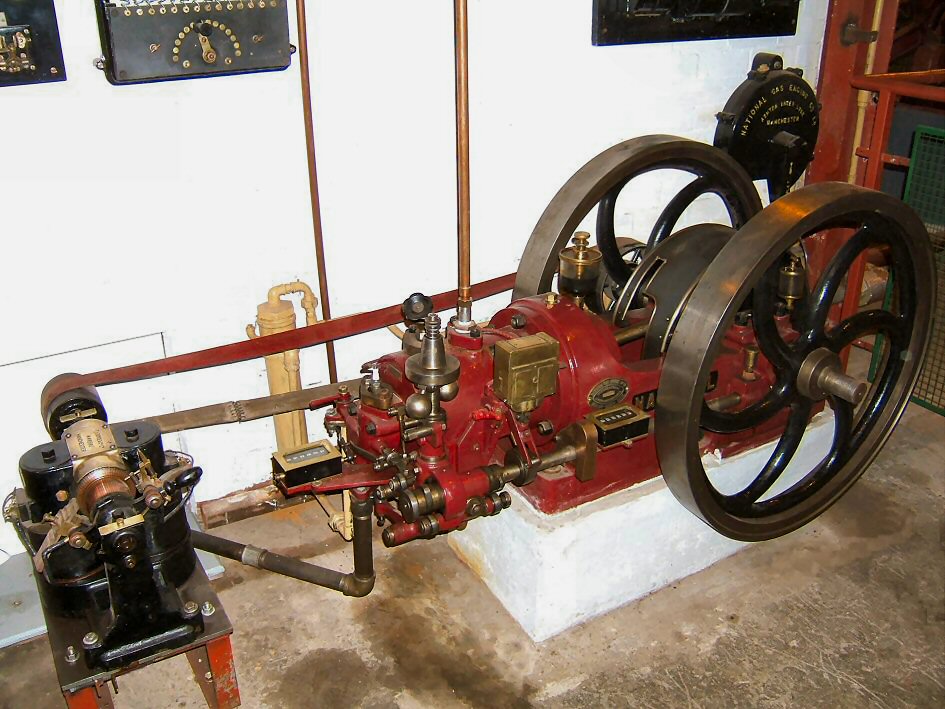 Although originally operated on producer gas (a form of gas that could be manufactured from coke and steam on site), it has now been modified to run on mains gas. It operates on a four-stroke cycle and uses a conventional spark plug and magneto to ignite the fuel.
Of particular interest is the small dynamo to which it is now coupled for display purposes and which was manufactured in Manchester by Henry Royce in 1897 (where Royce had a flourishing electrical engineering business before he met the Hon. C S Rolls). It was originally supplied to Joshua Hoyle Ltd at Park Street Mill, Radcliffe to provide current for the new electric light installation in their mill.